Cable glands manufacturing with brass and other robust metals
---
---
14.11.2014. The main goal of cable gland is protected the end of a cable or wire to the equipment. It is used for cable moving through gland plates. Users need to apply similar standard quality cable gland for cables, accessories or cable parts. User needs to use same standard products or components to ensure safety, security, and reliability of cable technology.

Brass cable glands a mechanical cable device that made from metallic and non-metallic materials. Cable glands are used in all types of industries where electrical power is required such as electrical Industries, Pharmaceutical Industries, Chemical Industries, Oil & Gas Industries, Telecommunication Industries, Paper & Plastic manufacturers sectors, etc.

Different raw materials are used to make cable glands
Plastic
Aluminium
Brass
Stainless steel
Automotive sector usually source aluminium, S.S. and Brass cable glands for certain machines. When the equipment gets connected to cable gland, it confirms machinery's safety. You don't need to maintain them rapidly and can avail at competitive rates. Each of the design has its own applications and your requirements should match with the specification and functionality of cable gland design.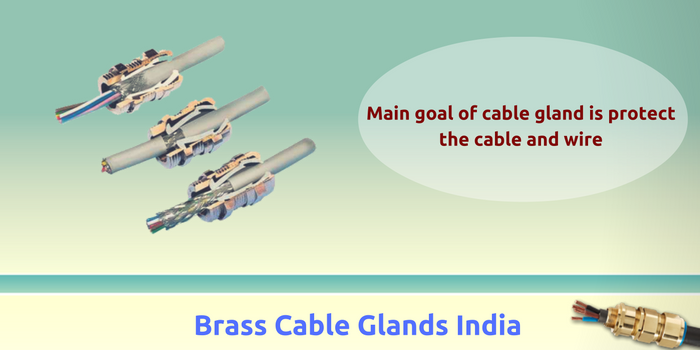 Why manufacturers are choose brass to make cable glands?
Cable glands are used in both residential and industrial applications to keep cable and wire secure. Manufacturers are widely using brass material to make cable glands because of it's silent features. Cable gland that made from brass is highly durable, reliable, cost effective and long service life. Indian manufacturers are made brass cable glands as per industrial standard size, design and as per client specifications. There are many different types of cable glands are made from brass for indoor and outdoor application such as brass indoor and outdoor type cable glands, Industrial type cable glands, PG types cable glands, weather proof cable glands, etc.
Where you suppose to outsource cable glands?
Authentic manufacturing company that produces brilliant designs for distinct type of cable glands can be the best partner to outsource cable glands range. These products have numerous industrial buyers associated with cable and wiring technologies, automotive sector, and electrical instrumentation. The motive of these manufacturers is to provide a comprehensive range to strengthen cable connections and lower their mechanical stress. You can surely rely on such manufacturing unit and avail best suitable solutions at competitive rates.
Dodhia brass moulding works is among pioneers who supply
comprehensive range of brass cable glands from India
. You can anytime contact the experts and avail quote for your requirement. You can also check their profile and make a final decision accordingly.